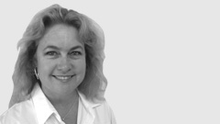 Residential and Commercial Sales
When Christene moved to the area over a decade ago with her husband, Russell, and three children she was immediately welcomed by this friendly rural community.
"There are so many wonderful attributes living and raising a family here," says Christene.  We have really beautiful surroundings, and from an economic standpoint we have an active business district, and a great variety of clubs and organisations.  People here have a great sense of community and pride.  This is a very friendly town.
In all aspects of Christene's working life, customer service has always been her main focus.
Christene will welcome you with her warm and friendly manner, and you can be confident that she will always do her best for you.
Agent Reviews
Karen

Chris Smyth did a really fantastic job on selling the house, nothing was too much trouble. Chris explained all the procedures ensuring that you understood what was to happen during your house sale. You were given time if you needed to check out a concern to get back to Chris with the answer. Chris was very diligent in getting our house sold, and pursued every avenue that assisted in putting the house on constant show for prospective buyers. I was amazed at how quickly it sold, all thanks to Chris's good work.